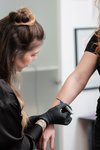 Your appointment
with Jules
Each client and his or her favoured piece of art is devoted the greatest possible attention – therefore I tattoo only by appointment. In order to guarantee perfect processing I solely accept appointment requests which are put in through my contact form. Due to a differing work load waiting periods may be possible.
The motifs which suits your body perfectly is created by your wishes and our ideas. Artistic freedom and development are at my focus – each tattoo is designed as requested by the customer and is therefore unique. This is why I need to make reference to the fact that no continuation of consisting tattoos are carried out. In the case of a cover-up, please send me a photo of the existing tattoo so that I can decide whether the tattoo can be covered.
You inform me about you favoured motif through the contact form. Based on your descriptions a draft is developed, which I send to you the day before the agreed appointment. Any modifications are possible to be discussed and carried out. My pieces of art are something for eternity – intention, favoured motifs and size should be given careful consideration before you contact me.
Because of youth protection we don't accept tattoo requests made by clients who are under 18!