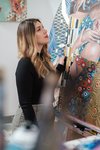 FAQs
Frequently Asked Questions
The questions and answers mostly apply to my studio in Linz / Austria. My books are currently open and the wishlist is permanently online. However, appointments only take place in Chronic Ink Vancouver, Canada. Chronic Ink accepts card only - no cash. Consultations can be booked via Chronic Ink. Please contact the studio if you need a consultation. For information on parking at the shop, please contact the studio directly.
How do I get an appointment?
Appointments are only accepted via Wishlist on the website. Dates for Wannados are accepted all year round.
ATTENTION: In the year 2023 to spring 2024 tattoo appointments will only take place in Vancouver, Canada. That's why the wish list is permanently open. However, appointments can only be made for Vancouver. At the moment no appointments can be booked for 2024 and there is no waiting list.
Thanks for your understanding.
Is Jules also in my area for guest tattooing?
Is retouch included in the price?
How long do I have to wait for an appointment?
Waiting times range from 3 weeks up to 6 months.
Can I come in for a consultation before my tattoo appointment?
Appointments are only made for clients who already have a booked appointment with Jules. If your commute is not too long, you are welcome to come in beforehand to discuss. Just contact us by email or phone.
Will I see the sketch before the appointment?
You will receive the sketch by email the day before the appointment. On the day of the appointment we have enough time to clarify details.
How do I care for my tattoo?
CARE TIP NO. 1: TREAT YOUR TATTOO WITH LOVE
First of all, we would like to say that there are different ways to take care of your tattoo. Also, every tattoo artist will give you different care instructions. Some clients prefer to cover their tattoo with foil for the first few days. Others prefer to let their tattoo heal in the air. You know your body best! So if you have already had positive experiences with tattoos and they healed well, take care of your tattoo as usual. For all others, for whom it may not have worked out so well or who may have had problems, did not really get instructions or just want to try something different – here are our recommendations and tips.
How do I prepare for the tattoo appointment?
Eat enough breakfast/food, get enough sleep, travel stress-free: check out route/parking options, drink enough water and sugary drinks, you can bring snacks. Pay in cash if possible. Pack clothes for tattooing.
What do I need for the appointment?
ID, snacks, cash, after the tattoo you need cling film and Bepanthen (normal wound and healing ointment, not Bepanthen Plus), it makes sense to wear comfortable clothes (e.g. shorts if the leg is tattooed, bikini if the back is tattooed, jogging pants, nothing too tight because of swelling, etc.)
It happens again and again that tattoo color or Stencil-Tine is sprayed on clothes. Rather wear something that is not a pity if it gets dirty. Likewise, we do not wear street shoes in the studio. You can take thick socks or slippers, as long as you're comfortable
When should I not be tattooed?
Do not book/go ahead with an appointment if you have allergies or if you take medications which are blood-thinning. Also: in case of autoimmune diseases, alcohol consumption, drugs, intoxicants, if you are pregnant or still breastfeeding or if you are hungover. Further, if you are sick (including colds or if antibiotics are being taken), if you have sunburn on the site of the tattoo, or if you plan to take a beach vacation within 4 weeks of the tattoo appointment.
Is there parking available at the studio?
We do not have customer parking, the best place to park is at JKU University. Do not park at the restaurant or behind the house (private parking).