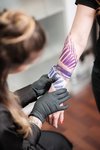 Your Artwork
My greatest attention
To ensure perfect processing, I only accept appointment requests via the contact form (Wishlist). Due to varying workloads due to guest spots and conventions, there may be waiting times. Of course, I'll keep you updated about available appointments on my homepage and my Instagram page.
ATTENTION: In the year 2023 to spring 2024 tattoo appointments will only take place in Vancouver, Canada. That's why the wish list is permanently open. However, appointments can only be made for Vancouver. At the moment no appointments can be booked for 2024 and there is no waiting list.
Thanks for your understanding.